Improve Your Firm
A back office for your law firm that is robust, easy and affordable.


Managing a small firm carries so many responsibilities and challenges it can make you dizzy: developing business, servicing clients and a myriad of operational and administrative tasks that consume time and don't generate profit.  Our team can save you time and money but handling all of the back office functions that distract you from the things that you should be doing. You enjoy a process and platform that is superior to doing-it-yourself, while freeing you up to do the things that make you successful. With change brings disruption; and our goal is to improve things, not complicate them.  Our assessment process allows us to measure the fitness of your operational process, so we can determine what needs to change, what benefit you should expect to enjoy and the least disruptive path to improvement.

How Do We Do This?
After our team publishes our assessment of your firm's operations, our implementation team will walk you through the steps to improving your efficiency and profitability.  Before you know it, we will be assuming responsibility for the tasks that have been keeping you from your priorities, and you will be enjoying the time savings and cost reductions that drive a successful law practice.

Our Process
We will focus on a number of important measures of success: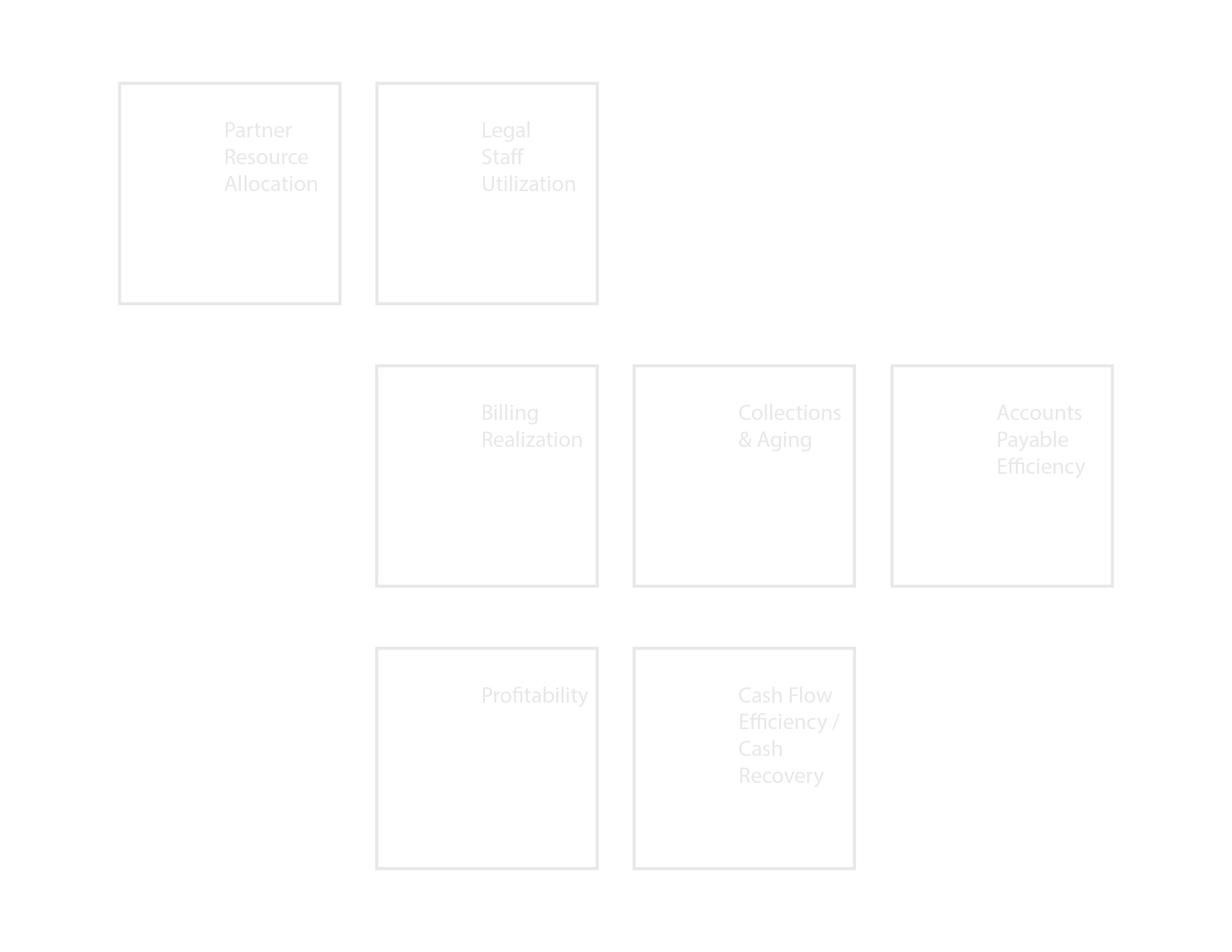 and much more.

1
Steps to success
ASSESSMENT

After a comprehensive consultation, our team will publish an assessment of your firm that will include financial and operational analysis aimed at identifying areas of improvement and a plan to achieve them.
2
Steps to success
IDENTIFIES AREAS OF IMPROVEMENT

We work together with you to select processes that will be optimized based upon your goals, your capacity for change, and your business conditions and opportunities.  

3
Steps to success
TRANSITION / IMPLEMENTATION

Our team works closely with you and your staff to execute your transition plan and ensure all details are addressed so there is little disruption.
4
Steps to success
CHANGE OF RESPONSIBILITY

Our team takes over and allows you to spend your time on success instead of tasks.  We follow the agreed upon process, allowing you to remain in control while releasing you from time consuming responsibilities.

5
Steps to success
TIME SAVINGS, COST SAVINGS

As our institutional knowledge and comfort with your team increase, your participation in the operational process decreases.  This will enable you to refocus your efforts on productive pursuits as we handle the workload.
FINANCE & ACCOUNTING
Client Record Keeping, Online Time Keeping and Expense Tracking
Pre-Billing, Billing, Accounts Payable, Accounts Receivable, General Ledger Reconciliation
Internal Reporting, Strategy, Expense Optimization, Partnership Reconciliation
External Reporting to Accountants, Tax Payments and Taxation Reporting
IT & TELECOMMUNICATIONS
User support- computing, mobile, networks, printing, and more

Email, Document Management, Backup, Security, Docket Management, and more
Mobile, On-site and Virtual Office Set-up and Support
Temporary and permanent Hardware Replacement, Retention Policy Creation, Data man agent, and Archive Management
MARKETING & ON-LINE
Website Creation, with coordinated branding, collateral and management
Signage, Branded Materials and Promotional Item Design
Emailers, Digital and Print Campaign Administration
PR , Special Event Management
& Materials Design
HR & BENEFITS
Payroll and associated Administration, including Tax Payments and Reporting
On-boarding and Terminations, Employee Record Keeping, Employee Policy Creation
HSA, FSA, COBRA, Workman's Compensation and Disability Insurance, Unemployment, Commuter Benefits, 401(K) Plan Creation and Administration
Discount Programs: Fitness Club Memberships, Car Rental, Wireless Services
Client's Bill of Rights & Responsibilities

At NexFirm, we take great pride in providing our clients with world-class service. Meeting the needs of our clients is our chief concern, and we require our employees and our affiliates to abide by the same standard. To ensure that every client is treated in a fair and ethical manner, we have made the following promise through our Client Bill of Rights. Rooted in this philosophy is the fact that every NexFirm client has both important rights and responsibilities.

Read More
We hear you. Tell us more.
NexFirm, L.L.C. undertakes not to use the information for any purpose, other than for the purpose of considering collaboration, without obtaining written agreement of the Disclosing Party.